Rent-Try-Buy - Quality Second Hand Catering Equipment
Food & Beverage Innovations have partnered with Silverchef to bring you affordable quality ex-rental equipment to help you get the equipment you need at an affordable price.
All ex-rental equipment comes with
3 months parts & labour warranty
Professionally cleaned and ready to use
You can view the entire SilverChef used equipment range here.
Silverchef Used Equipment
Silverchef and FBI have partnered to offer you fantastic savings on quality second hand food service equipment. Special discounts may apply for Rent-Try-Buy rental agreements on second hand equipment.
Cash Price
Discounts do not apply for goods paid for by cash.
Special Offer Rent-Try-Buy
Where additional discounts may be available on certain equipment this will be reflected in your Silverchef Rental Agreement, applicants are required to complete the enquiry form on this page to be eligible for discount pricing.
Discounts are only available when using a Silverchef Rental Agreement.
Still want to pay the discounted price but purchase the goods outright? Simply rent the equipment then purchase at any time at the reduced price.
Warranties
All used equipment comes with a Silverchef 3 months Parts & Labour. Standard Exclusions apply.
Cleaned & Serviced
All Silverchef Used Equipment is professionally cleaned, serviced and tested.
Freight
Typically, finance & rental companies won't fund freight charges, you can pay this as a separate up front cost or… We can now include freight charges onto your contract to be paid off over 12 months as a weekly amount.
The Silver Chef Rent.Try.Buy® Solution benefits:
Low weekly rental repayments
A 12 month agreement so you're not locked into a long term contract
100% tax deductible rental payments
The chance to free up your working capital
The ability to try before you buy
The option to buy your equipment at any time during the first year with a 75% rental rebate
The freedom to upgrade your equipment at any time
Silverchef used equipment example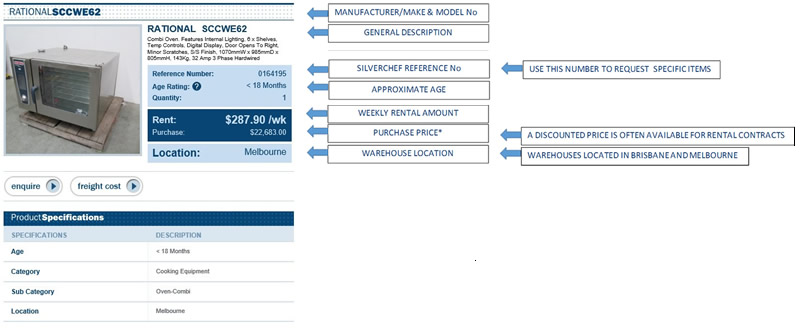 You can view the entire SilverChef used equipment range here.