Rent-Try-Buy - Quality Second Hand Catering Equipment
FBI have an ongoing partnership with SilverChef which enables us to offer you high quality ex-rental equipment at affordable prices. This means you get the equipment you need at the right price.
Here are some key benefits you'll enjoy with ex-rental equipment:
All equipment has been professionally cleaned and is ready to use
Every piece is serviced and thoroughly tested to ensure both safety and correct operation
Have peace of mind with a 3 month warranty on parts & labour
SilverChef Used Equipmnet
In order to be able to offer our customers some incredible savings on top quality, second hand food service equipment, FBI has partnered with SilverChef, an industry leader. You may even be able to take advantage of some special discounts that apply to some Rent-Try-Buy rental agreements on used equipment.
Cash Price. If you pay by cash, discounts on goods do not apply
Special Offer Rent-Try-Buy. Check out the SilverChef Rental Agreement to learn which equipment is eligible for further discounts. If you want to avail of any of these discounts, applicants must fill out the enquiry form on this page. You can only obtain discounts if you use the SilverChef Rental Agreement.
Purchase or Rent? If you want to be able to purchase the goods outright but still pay the discounted price, all you have to do is first rent the equipment and then purchase the goods at the discounted rate at any time
Warranties. For your peace of mind, all used equipment is covered under the SilverChef 3 months Parts & Labour warranty. Note that Standard Exclusions apply
Cleaned & Serviced. When you buy or hire through SilverChef, all second hand equipment has been professionally cleaned, tested and serviced
Freight. When you finance equipment through other means, generally these finance companies will finance the cost of the equipment only and not freight charges. With SilverChef you have the option of paying for freight as an up front cost, or you can include it in your finance contract and pay it off weekly over a period of 12 months
Download the SilverChef Used Catering Equipment Brochure
The Silver Chef Rent.Try.Buy® Solution Benefits:
Enjoy low weekly repayments
It gives you the option of freeing up your working capital
You can "try before you buy" the equipment
All rental payments are 100% tax deductible
You are free to upgrade your equipment at any time
There is the option to purchase the equipment at any time in the first year and get a 75% rental rebate
No long term, lock-in contracts, just a simple 12 month agreement
Download the SilverChef Rent To Buy Brochure
Silverchef Used Equipment Example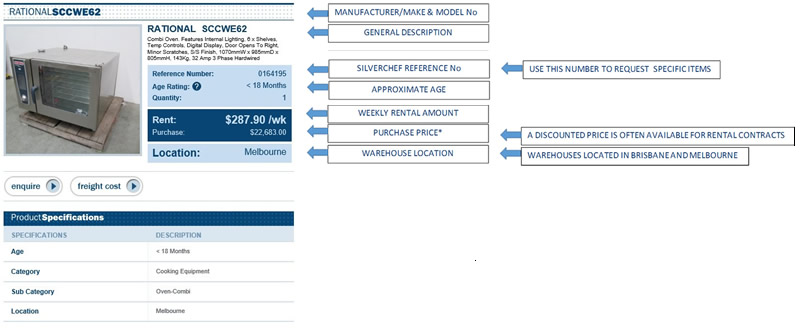 You can view the entire SilverChef used equipment range here.